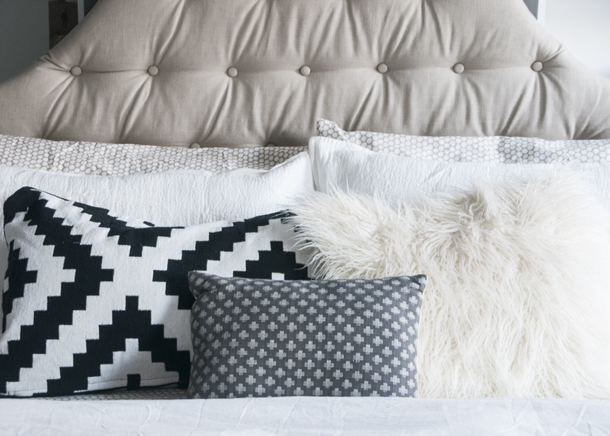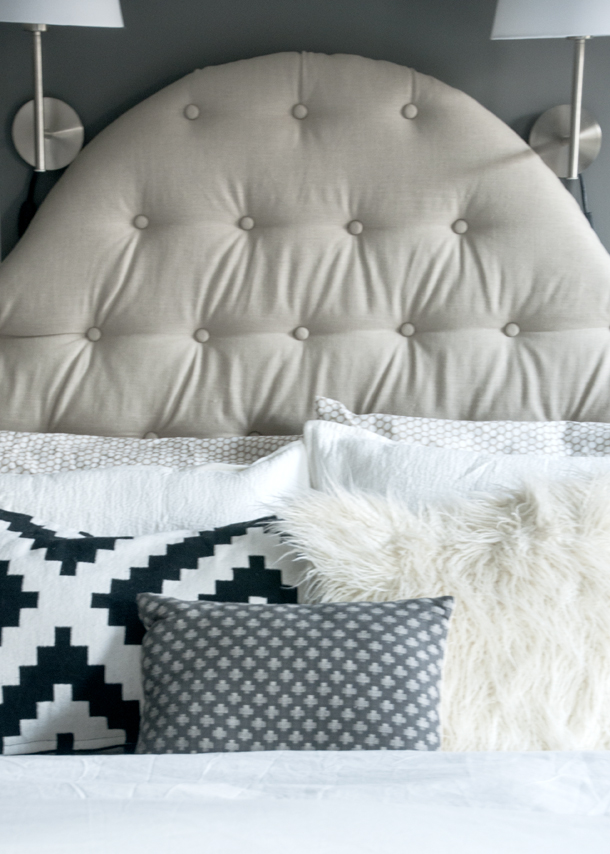 I'm ecstatic today to finally share with you my completed headboard and transition to the king bed!  As we spoke about last week, Matty and I got a new mattress from Tuft & Needle, and were able to upgrade to a king! Previously we wouldn't have been able to fit a King sized mattress up our bending staircase, but the mattress from Tuft & Needle came in a 12″ x 12″ x 60″ box, so it fit up the stairs just fine.
With my previous queen bed, I'd made a linen headboard with a nailhead border.  The past design took just an hour or so to complete and was under $60.  I wanted to up the ante a little bit this time and create a headboard that was inspired by the restoration hardware chesterfield style that I loved.  After we got the mattress in the room, however, I realized that a rectangular headboard would cut off way too much of the built-in bookcases, so I decided instead to create a scrolling design which allowed more of the bookcases to be visible.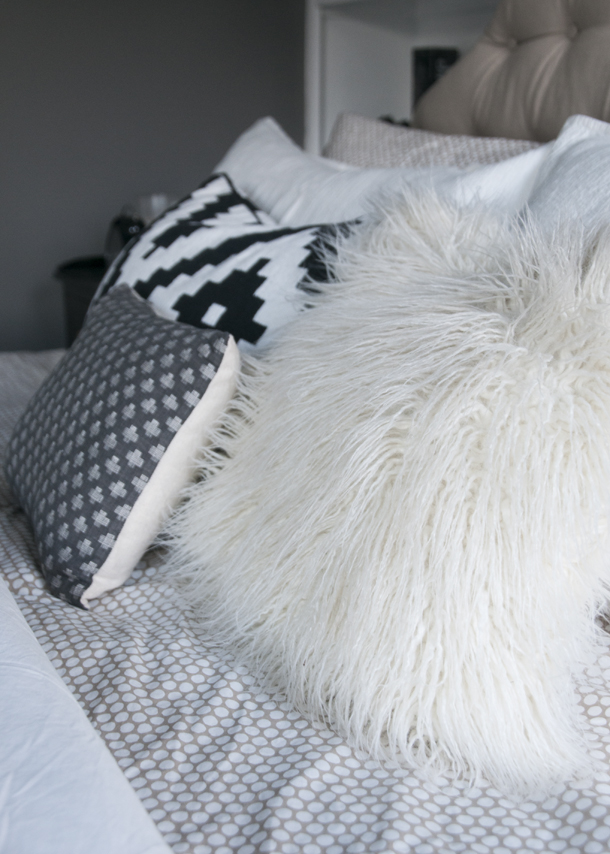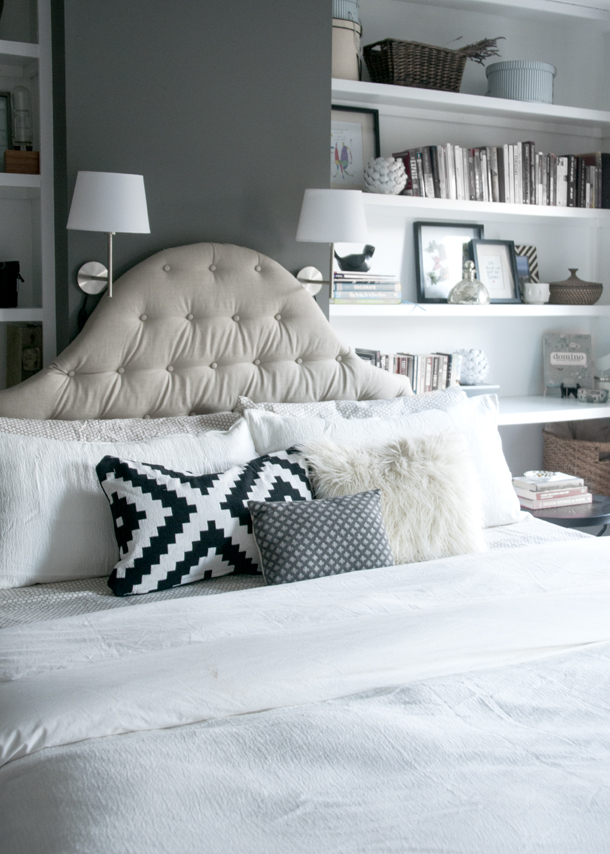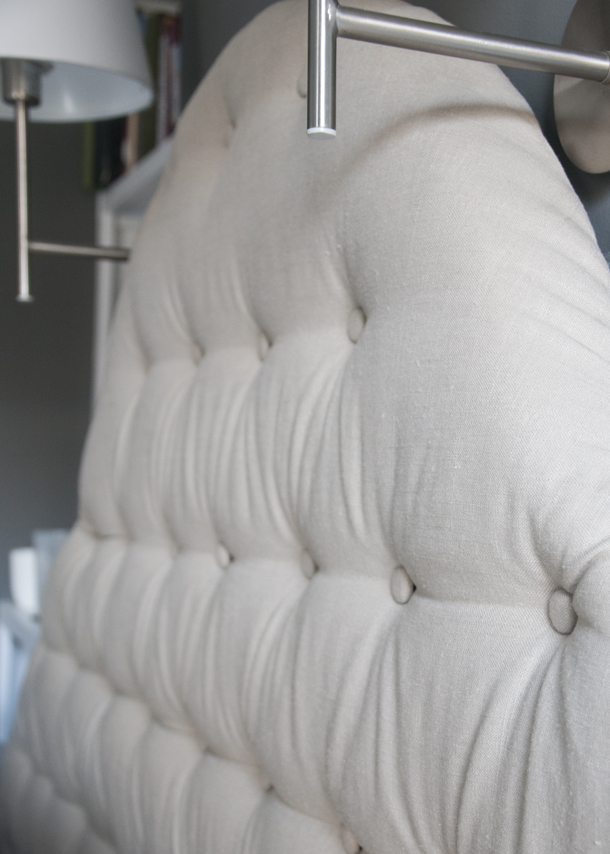 For this design, there was more work involved due to the tufting and creating covered buttons.  The majority of the cost of the entire project was actually wrapped up in the 2″ foam that I used to creating deep tufts (whereas on the last headboard, I just used batting).  None of the steps taken were very difficult, but I can certainly say that covering over 40 buttons was certainly time consuming.  All in, the total cost was $318.  I used lots of JoAnn's coupons (60% off this weekend!).  Definitely make sure to get those coupons out of the mail (or just use their app) before buying the materials, as I saved about $250 using them.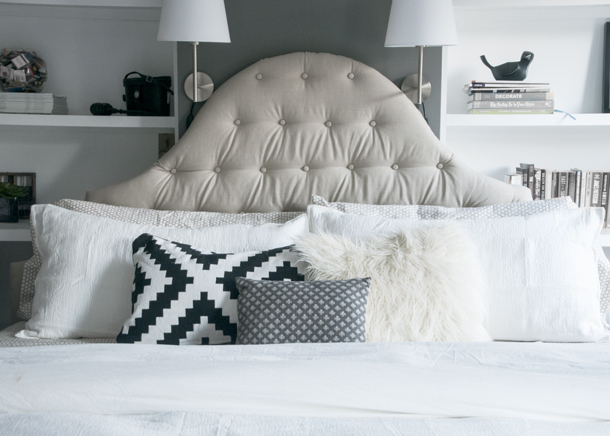 Aside from the actual headboard, I dressed the bed in the dotted West Elm sheets, a while West Elm duvet cover, and various throw pillows.  I still want to explore a few more pillow options to be closer to my original vision (and add it a little more brown and navy)!   Are you interested in seeing the step by step headboard tutorial?  Keep on reading for the full material list, photos of our process, and PDF with plans and measurements.   Continue Reading…