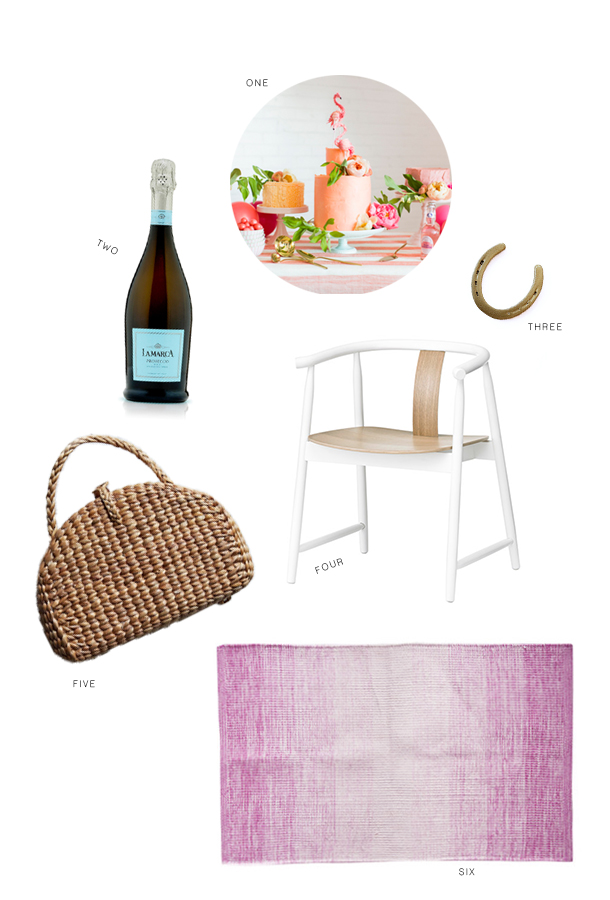 ONE This has got to be the prettiest bridal shower idea I've seen in a long time… bright colors, lots of gorgeous details and a flamingo cake, what else could a girl want?  The whole party was the brainchild of Brittany from The House That Lars Built.  Pop over here to see all of the amazing photos.  TWO when the weather gets warmer, my drinks get colder.  Since I'm not a huge white wine person, I usually stick to prosecco all summer long… mixed with other things or plain, it's the perfect summer sparkler.  La Marca mini bottles work perfectly for a little here and there without opening a large one. THREE I don't know why I like this golden glittery horseshoe, I just do.  It would be a really darling little object d'art for the home. $24 from Cast and Crew. FOUR I love this sculptural and modern side chair and guess what?? It's only $89… believe it! FIVE the most adorable picnic basket ever. That's all. $52 from Provisions. SIX wow! You guys really like some handwoven rugs!  All of my geometric pink rugs sold out and I only have one of every other color left. crazy town!  $32 from Grandiflora Home + Decor.
Yay!  It's Friday!  This week was a busy one! Lots of work and play was crammed into a four day work week.  I'm working feverishly on the Luau party (shopping details to come next week) and getting ready for a few business trips that are coming up as well.
This weekend we are hanging around Columbus, chilling with friends and enjoying our patio! I hope you all have a relaxing weekend in store as well!