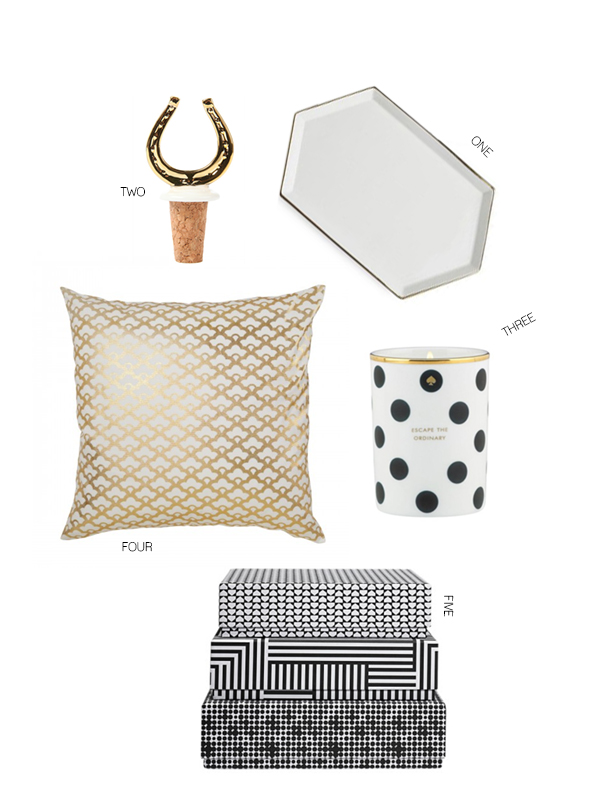 ONE a modern hexagon tray is simple, but stunning.  $64 from Waiting on Martha. TWO cheers to good luck in the new year!  Gold horseshoe wine stopper from Furbish Studio for $22. THREE escape the ordinary with the cutest ever candle from Kate Spade.  It's $40, but how darling would the cup be for pencils after the candle is gone? FOUR I definitely need this pillow cover.  There are loads of other gorgeous gold cushions from Caitlin Wilson as well.  They start at $65. FIVE up your organization this year with gorgeous geo boxes from Kate Spade Saturday. $45 for the set of three.
Well guys, it's been a wonderful last week of 2013 and first week of 2014.  I didn't take any time off during the holidays, so Matty and I are taking the week next week to head out to Colorado for a bit of relaxation and skiing.  We'll be out there with a few friends and I am so excited to get some good outdoors time and ski my little heart out.  I think if I can ski at least once a year, I'll keep some sort of skill up.  Are any of you guys big skiers?  Side story, Matt and I used to live in Vail, Colorado where I learned to ski at age 23.  When we moved out there I'd never skied before and he all but told me that if I didn't try, he didn't know about a future with me. A guy serious about what he wants in a girl, huh?  He was kind of joking, but I guess I figured I should learn.  Luckily, I fell in love with skiing and ever since then, I really can't go a winter without some fun in the powder.
Even though I'll be traveling next week, blogging is really so therapeutic for me, I'll be spending some quiet time each day sharing posts with you guys.  I have my 2014 resolutions to share on Monday followed by a bedroom refresh, and (finally!) the reveal of my cane chair.  Of course there are a few other things squeezed in there too, but I can't wait to start the year off with a bang.
As always, I'll be sharing photos of my travels, keep up on Instagram!