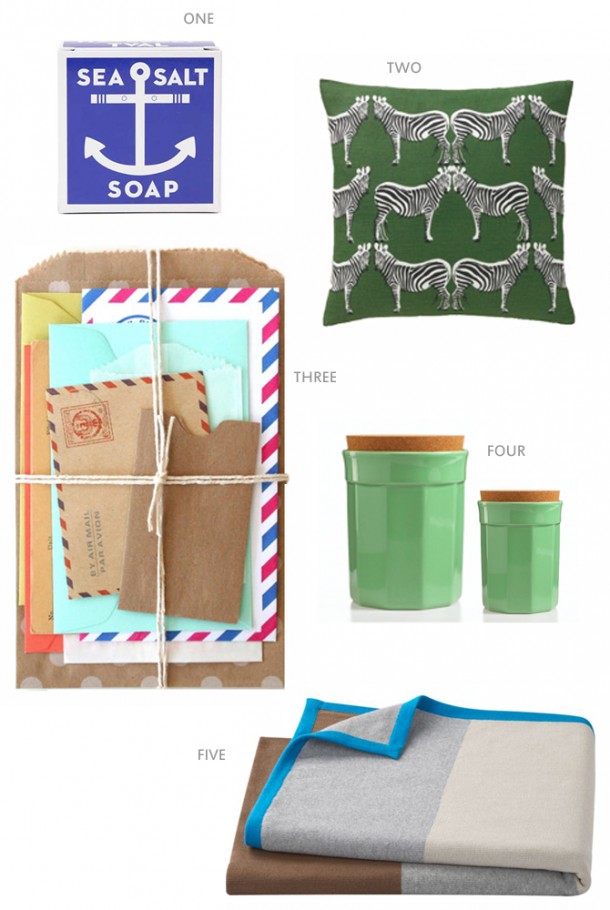 ONE Sea salt soap lathers into a rich foam $8 Brook Farm General Store. TWO Kelly green zebra pillow will add both color and quirk to your couch $72 Dwell Studio. THREE Absolutely loving the paper and envelope grab bags from Saturday AM Vintage; FOUR Colorful corked crocks by Martha Stewart for Macy's are so so cute and bring a touch of nostalgia to your kitchen. $14 and up at Macy's. FIVE I love the retro masculinity of this color blocked blanket from CB2.  Pair it with a small scale vintage floral for some pretty pattern mixing. $59 at CB2.
Wow, hasn't spring just kind of landed in our laps?  I kept telling myself that winter wasn't over (and I hope I'm not jinxing myself here) but we seem to be in the clear.  We're planning on having a little spring bonfire tonight and I think with the chill that is left in the air, it will be just perfect.  I have a packed full day tomorrow – brunch with a friend, scouting out a wedding venue for some floral and event planning, and then a dinner date at another friends house.  It's going to be go-go-go, but it's going to be great.
What are your plans this weekend?
Have a MARVELOUS Friday and weekend!