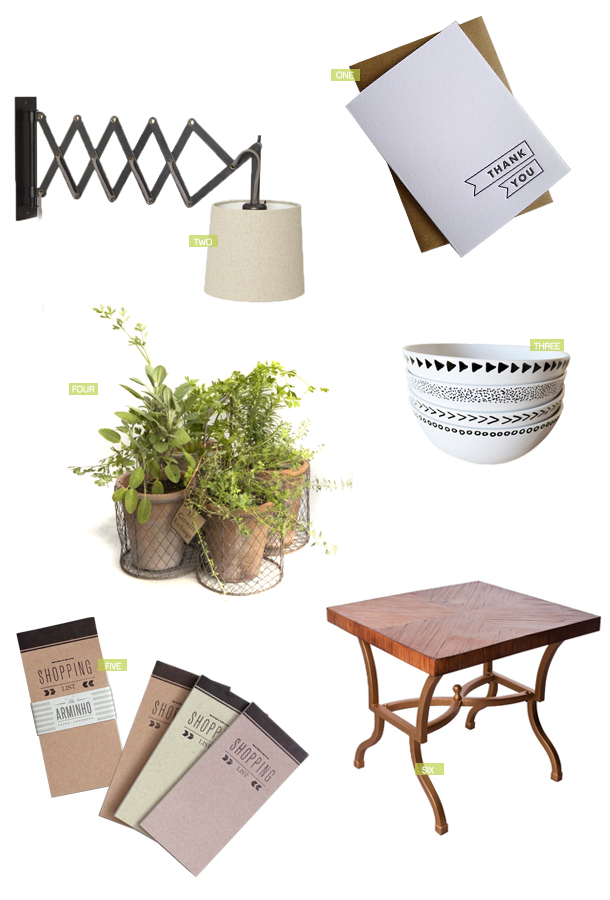 ONE letterpress cards from Bears Eat Berries are as cute as they come.  They're cool, minimal, and right down my alley. $15 for a set of six thank you cards. TWO These accordion sconces from West Elm are just what I need above my headboard. $179 each. THREE make cereal in the morning a tad more stylish with these geo patterned bowls from Urban Nester, $30 for the set of four. FOUR start your garden growing this year with an indoor herb kit that is a pretty as they come, $45 from The Growers Exchange (and for other gardening picks, see my March column on Houzz). FIVE as if you didn't love shopping before… these shopping list notebooks from ARMINHO are so fun and a great price at $10 for the set of three. SIX Add some stunning greek beauty to your home with the Athena side table from Society Social, $395.
Happy Friday, everyone!  I am happy that it's the end of the week and I can have some downtime to play a little bit.  My social calendar is booked with dinners and drinks, we're breaking ground on our flagstone patio, I've got some housekeeping to do, and I'm excited for it all!
Are you all celebrating this weekend?  Whether it's for St. Patricks day, the onslaught of spring, or just because it's the weekend and you survived?