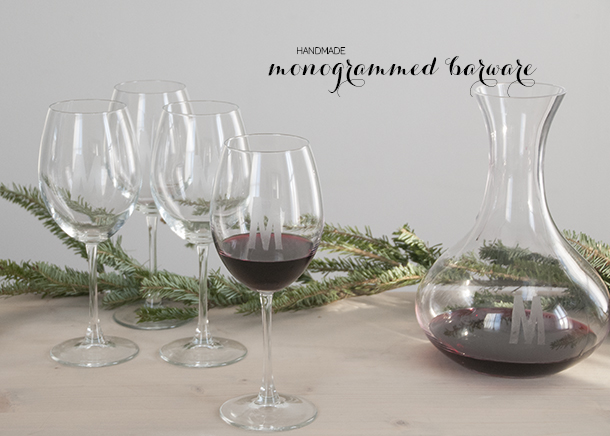 When it comes to handmade gifts, I like to do a little half and half – a gift that's partially purchased and partially hand crafted. In my family we have very low caps on our christmas gifts, so I did this for my sister a couple of years ago to try to make the most with the $25 max I had to work with.
This gift has actually turned into a big story for my family.  That year (and for this project), I went to Home Goods, purchased both the glasses and the decanter for under $20.  The time I actually made this for my sister, there was an odd turn of events however.  Me, being a little too excited to get started, etched the first wine glass before opening the rest of the glasses.  I got a 'P' for my sister's last name onto the first glass and reveled in my creativity.  Then, when unpacking the rest of the glasses, I realized one of the glasses was broken.  Now, a normal person would have just realized that they had gotten ahead of themselves and bought a whole new set.  For whatever reason, I decided to return the glasses.  If they had to damage out the set because of the broken one, it wouldn't matter that one had a 'P' on it, right? So I returned the set, told the associate that there was one glass broken.  Then she took out the rest of the glasses so I said, "and this glass mysteriously has a 'P' on it."  The brand of the glasses was Palm Restaurants, so the associate suggested that as the reason for the mysterious 'P'.
Why in the world did I do that?  In hindsight, I should have cut my losses and just bought a new set.  I have no clue what I was thinking but to this day, my family won't let me live it down.  I cried, I was laughing so hard when I told the story to them. Regardless, maybe someone out there bought a 0.99 clearance 'P' glass and it just made their day.  That's what I like to think.
So onto the DIY.  Similar to last time, I bought a set of wine glasses (no broken ones this time) and a decanter from Home Goods for under $20.  The etching cream I had on hand, but it's just about $8, so it makes the whole gift under $30 and you can use the cream for other projects!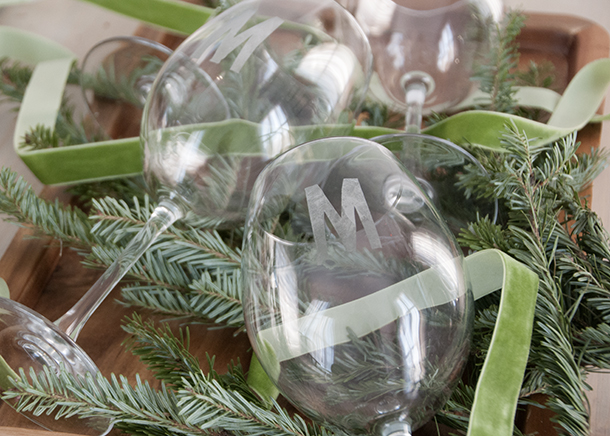 Making the stencil is pretty simple. For the full tutorial, Continue Reading…