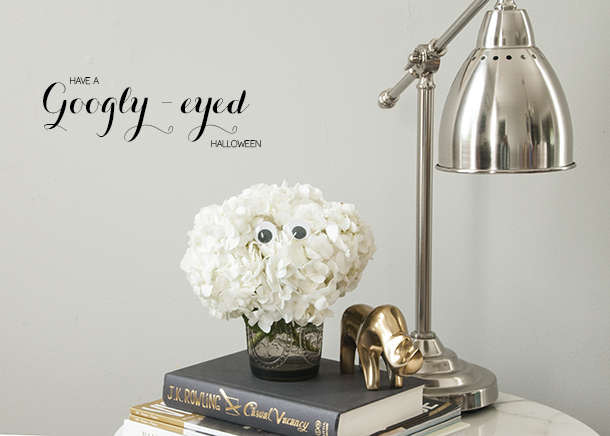 Halloween is my favorite time of the year and I really cannot wait to break out the seasonal decor.  That being said, I'm a pretty big fan of Halloween decor that is understatedly scary or humorous.  Last year's decor was simple with a lot of wood accents and some crows.
This year, I'm doing more of a spooky humor type thing, starting with these googly eyes on lots of things… including flowers.  I laugh out loud every time I walk by my googly eyed hydrangeas.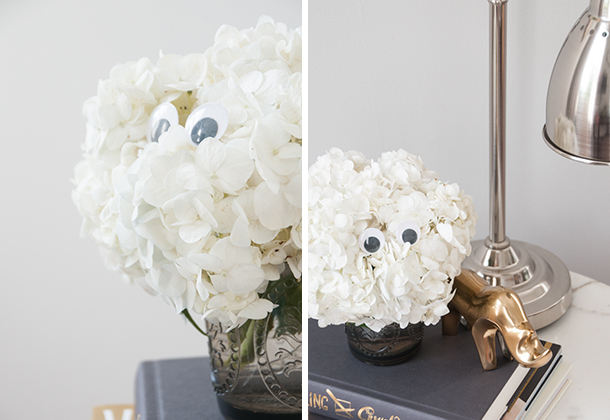 ONE drop a dab of hot glue onto the back of your googly eye.  TWO stick a trimmed wooden skewer perpendicular into the dab of clue.  THREE put your googly eye skewer into your flower arrangement.
It's a super simple little seasonal project and would look awesome in some red roses as well – spooky!
p.s.  After I made the spooky eyed hydrangeas, Matt was cracking up at me and mentioned that this reminded him of an SNL skit with Christopher Walken (which I'd never seen), but he showed it to me  and it's hilarious.