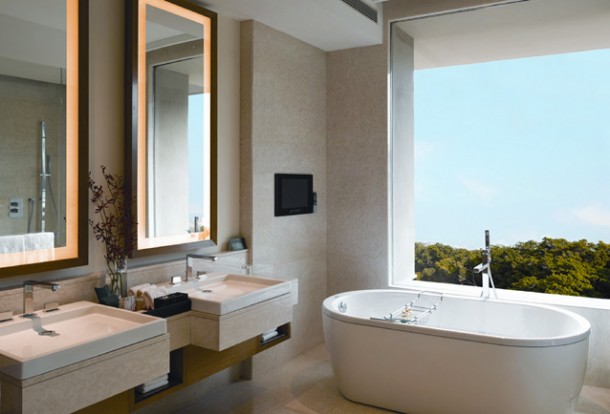 Does this view look familiar?  If you follow on Instagram (@houseofearnest) you would have seen this lovely view just a few weeks ago while I was in India.  I was expecting an intense week of hard work, an uneasy stomach, and lots of homeless children (cue scenes from Slumdog Millionaire).
What I got, was an amazingly beautiful, colorful, lush retreat to relax and recharge in between days with my suppliers.  This bathroom was the opulent icing on the cake.  As soon as I walked into the room (at 1am local time) I was immediately smitten and decided that a hot soak was in order.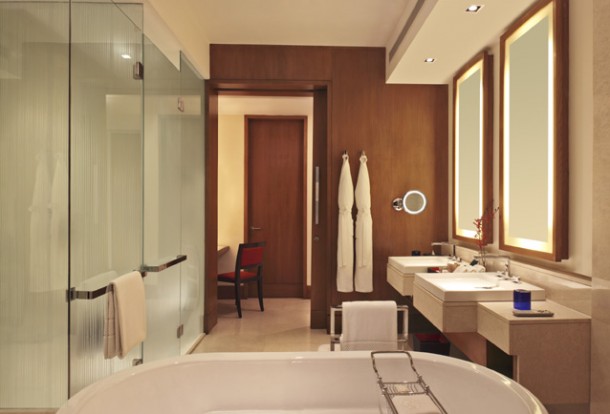 I think my experience was much different than most.  I was certainly living in the lap of luxury at the Oberoi, but it got me to thinking about the elements I want to include in my own bathroom renovation.  Glass shower cubicles and enclosures? Yes.  Stunning bathroom mirrors with backlighting? Yes. Giant soaking tub with a view of a blue sky (maybe something a little more angular like this)? Yes.
Although my own bath wouldn't be quite so glam (a little less opulent, and little more natural) there are a lot of cues I can take from this beautiful room.
What about you – what are absolute 'musts' in your dream bathroom?
Have a STUNNING Thursday!