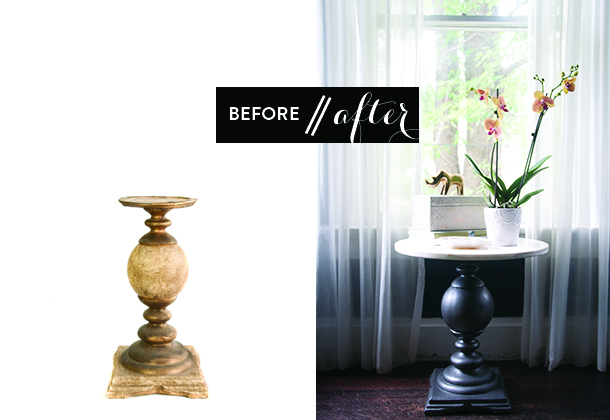 Disclosure: Compensation was provided by Rust-Oleum® via Glam Media.  The opinions expressed herein are my own and are not indicative of the opinions or positions of Rust-Oleum®.
Let's get this Monday kicked off with a little Before & After action!  This project has been a long time coming.  I bought a round marble tabletop at a flea market almost four years ago knowing there would be a perfect opportunity to use it, an opportunity which didn't come until this weekend.
I was at Matt's mother's house looking through her collection of entertaining gear for cutlery to use at our luau (more on that Wednesday) and this beige and gold stone faux finish table base caught my eye.  Sure, the finish was a little dated (hence why it was in her basement) but I loved the shape.  If you squint your eye and look at just the shape, you can tell it would make a great candidate for a paint project.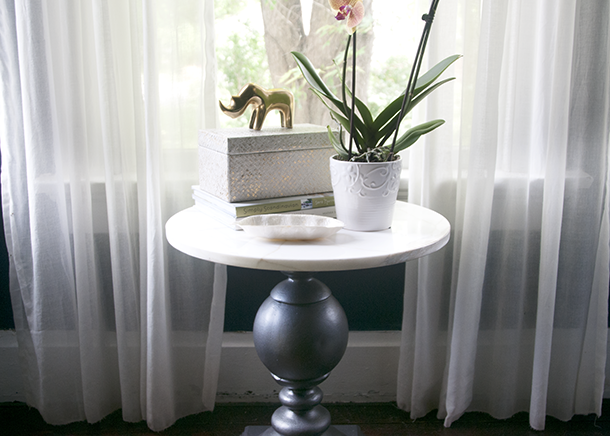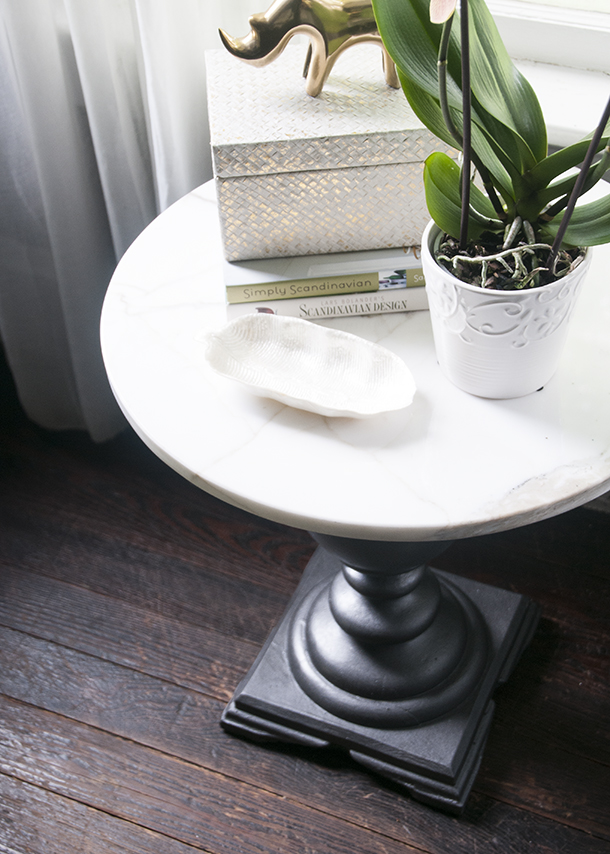 I had initially wanted to do a fun pop color in a high lacquer finish, but after closely investigating the texture on the table, I thought the stone texture in a bright color would look odd, so I went the total opposite way.  Plus, you guys know how I am with color…
While at the hardware store, I found this soft, slightly metallic iron finish by Rust-Oleum® Universal® .  I've used Rust-Oleum® Universal® Gloss & Flat Enamel Sprays on pretty much every spray paint project that I've ever done since the inception of this blog.  The metal paints have a wonderful realistic look and they have primer in them.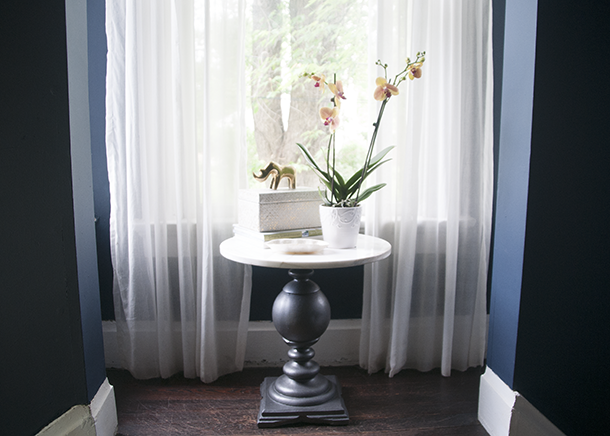 Funny story – I started buying the Rust-Oleum® Universal® paints way back when firstly because of the trigger nozzle, then the preference for the paint stuck.
After it dried and I got my marble top on it, I knew the color and finish were the right decision.  It looks like something you'd get at Restoration Hardware! I was so happy with the result and all for just the price of a bit of spray paint. The whole thing took under 15 minutes.  How's that for instant gratification?
How do you like the outcome?  I have the table in my stairway landing, the perfect sunny spot for my orchid plant and now it has the perfect table to sit on.