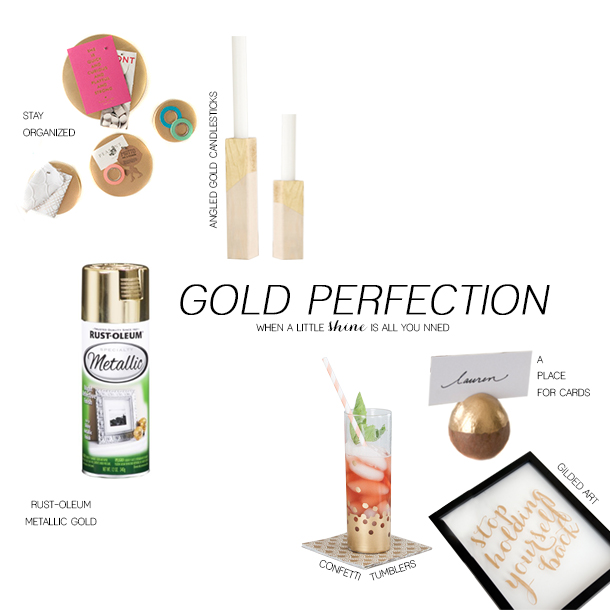 The questions I get emailed and asked the absolute most aren't about the camera I use or decor in my home… it's about the gold spray paint that I prefer.  It's no secret that I use it in a fair amount of projects because a little shine never hurt anyone and I love neutrals.
I will admit that I bought 6-7 different gold spray paints and sprayed them all next to some gold foil to fill in gaps on a table project I was working on.  I choose the variety that matched best to the foil and started using that color exclusively.  For me, it's the Rust-Oleum Metallic Gold Spray Paint
.  It's not too yellow, not too green, it's the perfect match to real gold I can find.
So, I wanted to share it with you all today.  I use it so much and reference it even more, so if you're looking for the perfect coat, here you are! And after you've got your secret weapon in hand, here are some favorite projects to make with your gold paint.
ONE magnetic office organization is perfect for a small space. TWO angled candlesticks are a little rustic and a little glam. THREE don't throw out your avocado seeds.  Instead, dry them and transform them. FOUR a party isn't a party without some confetti (on your champagne glass). FIVE this one doesn't use gold spray paint, but the gold inspiration art is still one of my faves.
Have a GLEAMING Tuesday!