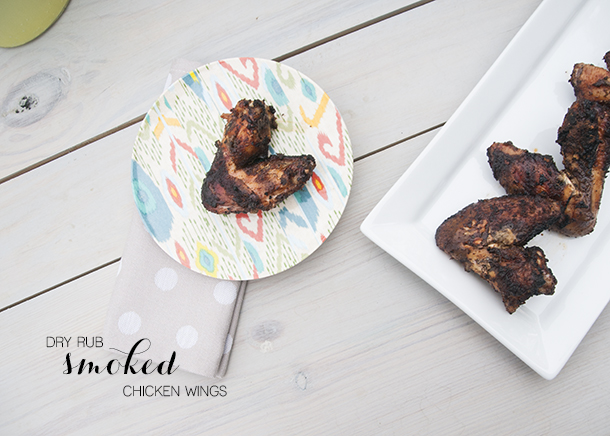 Happy Monday guys!  We spent the weekend enjoying lots of time with friends and family.  The weather was a little touch and go, but we were very happy to get some sunshine yesterday and some time to cook outside at our new outdoor kitchen.  I posted on Instagram last week a little peek of our patio this year (more photos to come!) and lots of you commented on our 'Big Green Egg' smoker.  We love smoking regular cuts of meet (brisket, pork shoulder, etc), but have found our favorite thing to make are chicken wings.  A dry rub makes them spicy and adds a ton of flavor without frying and sauces, so they're not only fall-off-the-bone tender, but they're also pretty healthy.
Get the smoker going at 300 degrees with your choice of wood chips.  We used hickory chips soaked on bourbon.  While it's coming up to heat. Put together the dry rub (recipe below) and rub all over the skin-on wings. Place into the smoker and let smoke for 45 minutes to 1 hour.  That's all!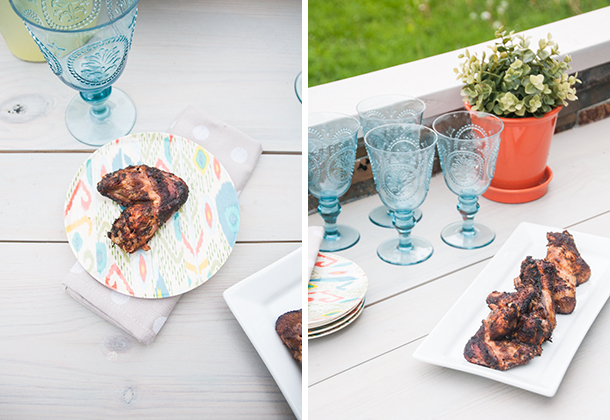 They're savory and sweet with the perfect amount of spice.  They're flavorful enough that you really don't need any sauce, although if you want to add your favorite BBQ, you could!
Dry Rub Recipe:
2 tbs kosher salt
2 tbs sugar
2 tbs brown sugar
2 tbs ground cumin
1 tbs cayenne pepper
4 tbs paprika
2 tbs ground sage
cracked black pepper
Dash of ground ghost chilies (comes in a grinder at Trader Joe's)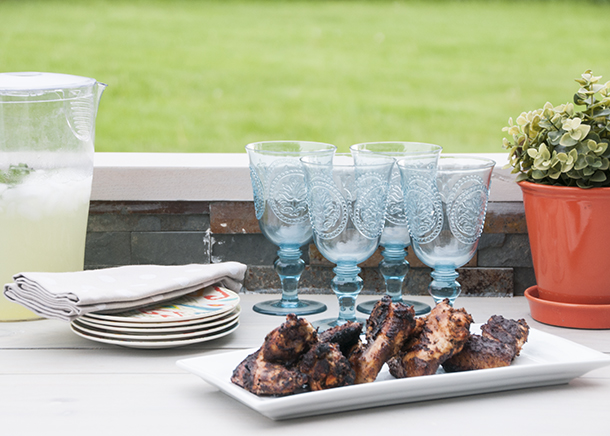 If you don't have a smoker, you can make these in the oven. Just roast at 400 degrees on the middle rack for 20 minutes, then flip over for 10-20 more minutes or until golden brown.  Or if you choose to grill, it's just about 10-15 minutes on each side of a hot grill!
We make these almost every other weekend in the summer.  They're a meal on their own and you don't feel too bad eating a bunch since they aren't fried or soaked in butter-heavy sauce.
What are your favorite summer cookout recipes?