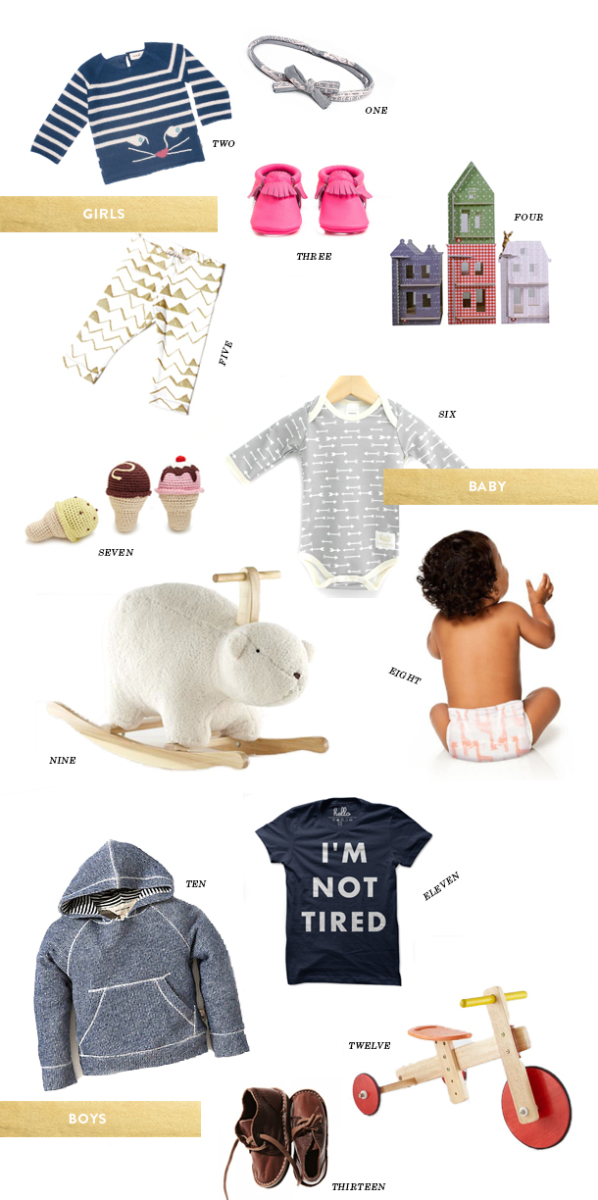 ONE a tiny bow headband is girly, but still cool. $10 from Thief and Bandit.  TWO meow!  This cat knit sweater is made by local women in Bolivia under fair trade practices…and it's downright adorable!  $88 for Oeuf. THREE who doesn't want hot pink moccasins? Treat your little one to some stylish toes with these leather beauties from Freshly Picked, $60. FOUR let your little one build their own city!  These foldable cardboard buildings are modeled after traditional architecture and allow kids' imaginations to thrive! I would have loved this as a child! $40 from Uncommon Goods.  FIVE for the cutest leggings on planet earth, head to Thief and Bandit.  All of their items are hand printed making them so unique.  $38.
SIX a little arrow onesie is cute and unique with a hand-drawn pattern by Lucky Palm Tree, $44. SEVEN I would just love to see a baby gnawing on one of these ice cream cone rattles.  How adorable! $33 for a set of three. So if you're like my family and had three babies one year, buy and divide! EIGHT for a new mom the Honest Company's diaper monthly bundle (delivered!) is a wonderfully cute idea.  Have you seen all of those patterns? $79/month for diapers and wipes. (that's less than $20/week!) NINE I just love this polar bear rocking toy.  It's really just too cute for words. $129 from Land of Nod.
TEN Who's the coolest boy on the block?  The kid wearing this heathered hoodie from Burt's Bees, that's who.  At $28, it's a good deal, too! ELEVEN have you guys seen this video yet?  It instantly reminded me of the 'I'm not tired' T-shirt from Hello for $18. TWELVE an all wooden adjustable balance trike is simple and good looking. $70 from Land of Nod. THIRTEEN leather baby 'chukkas' are so adorable I want to buy them for every baby I know even though they're a little pricey at $95.
I'm not going to pretend to know the first thing about children.  We don't have any, but we do have an army of nephews and one niece! When the kiddos were little and had less of an opinion on their gifts, I'd just get them the cutest little frivolous things I could find.  Now that they're getting older (most ranging in age from 3-10) they like certain things (most notably nerf guns, legos, star wars, and mine craft anything).  Since my husband, Matt, also likes these things into his thirties, I let him take the lead on buying the boy gifts.  Since my one niece is obsessed with Frozen, that makes for a pretty easy gift giving strategy.  We have one little infant who I'll take much joy in buying ridiculously cute things for.
The reason I showcased items other than what we bought is just soley to maybe give you all some ideas or brands you might be unfamiliar with!  Feel free to click on my links and then go explore around the shops to find special items that fit your needs.
Have fun exploring, and have a great Friday, guys!