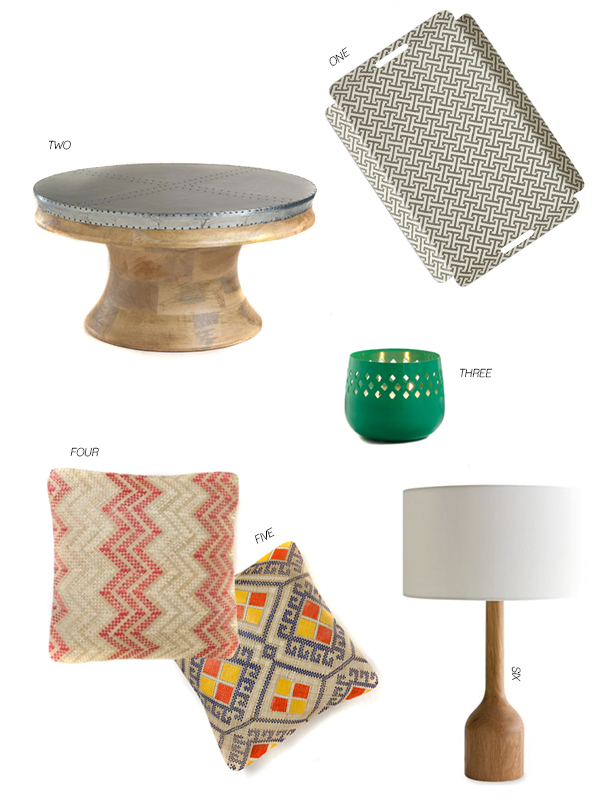 ONE serve in style with this quadrille tray in a cool (goes with everything) grey. $115 from Calypso St. Barth. TWO coffee tables are usually either cool or practical, but this one from World Market is both – and it's on sale at $429. THREE I've never experienced a better smelling citronella candle.  It's good enough to burn indoors – that's how great of a scent the people from Illume have poured into their outdoor starlight tins.  $22.50. FOUR & FIVE non-ugly outdoor pillows are hard to come by, but the selection at Terrain is so cool that the outdoor factor is mostly a bonus.  At $128 they're expensive, but better than the ones at half the price that you'll have to throw away at the end of the season. SIX I love this lamp!  That's really all there is too it. $122 on sale from JCPenney.
It's been a long week for me and I couldn't be happier that it's Friday.  How about you?  Isn't it just funny how some weeks seem to fly and others seem never ending? It's been a beautiful week here in the midwest and I'm hoping to parlay that into the weekend.  I have some pretty blog projects to work on, some seriously laundry to get done (so I don't have to go out and buy new undies!) and a couple of tasks to get done around the house.  I'm hoping to sneak some fun in there too!
What's on your weekend agenda?