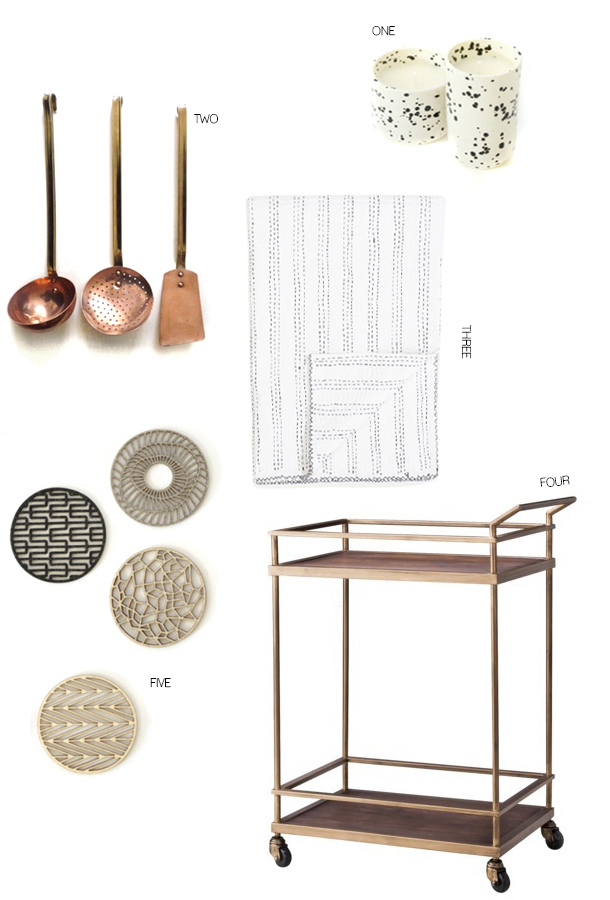 ONE discovered Koromiko this week and adore the shop.  These candles are an example of one of the offerings that I'm coveting! $34-$38 and created by Angela Hodgekinson in Oklahoma City. TWO I love copper anything at the moment and these ladles are vintage perfection.  I promise I won't snatch them out from under you, like I did with this colander. THREE white on white queen quilt is just one gorgeous example of the plethora of beautiful things from Gypsya – my new fave shop on Etsy. FOUR Isn't this bar cart amazing?  And at only $130 from Threshold, it's a steal! I don't have room in my house for another bar, but one of you needs it!! FIVE another find from Koromiko, these felt coasters are so unique, but neutral enough for any decor.  Made by Molly McGrath out of San Francisco.
It's Friday!  I've had a jam packed week, starting with three days in the office, then flying to New York for a Better Homes and Gardens workshop yesterday.  Today I'm still in New York meeting with a few amazing brands with whom I have upcoming collaborations with!  You'll be excited to see who I'm meeting (psst. follow on Instagram for sneak peeks of my day!).
I hope you have a fabulous Friday!