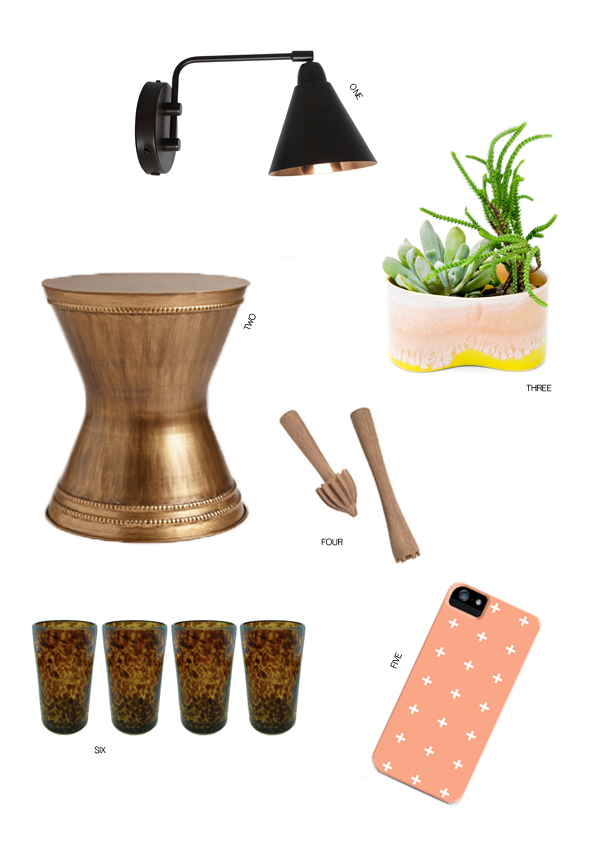 ONE I've had my eye on this wall sconce for a while now and might need a couple for my office plans (which I intend to share soon!) The black matte exterior with a shiny copper lining is what I'm all about.  £105 from Idyll Home. TWO this metal drum table from World Market is on sale for $69 and I'm contemplating a purchase! THREE pinched and glazed, could a planter be prettier? Handmade in Brooklyn and at $40, it also comes in Aqua and a glorious dark teal from Leif. FOUR ream, muddle, repeat. The perfect cocktail tools are simple and beautiful. Fruitwood reamer and muddler are $42 for the set from Jayson Home. FIVE I have a thing for little scandi crosses and the coral color is perfect for a summer transition to fall.  iPhone case from Pencil Me In Stationary for $40.  SIX what could be more classic that tortoiseshell? These highball glasses would add a serious pop of awesome to my home bar.  $48 for the set of four from Design Darling.
I've got a lot on my plate this weekend before I leave for Hong Kong on Monday.  I'm going to DIY paint the walls in my bar, prep and photo a few posts for my time out of the country, produce a styled wedding shoot that I'm organizing along with a fabulous local photographer, do some laundry to prepare for my trip and then pack!  Eeek.  I'm going to need some serious lists to get it all done. If you see me running around town like a maniac in workout clothes, I'm not working out, I just GSD better in activewear (haha).
I hope your weekend is going to be fun and relaxing!  Tell me, what are your plans?
p.s. don't forget to enter our $500 Home Depot giftcard giveaway.  It's silly if you don't enter.