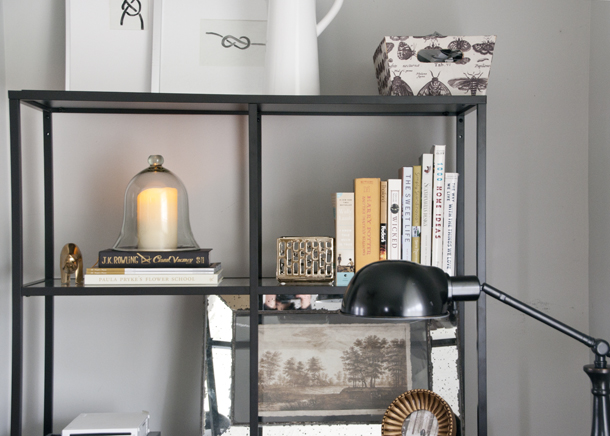 In our living room, we had initially created a console out of pallets for our media components and although I loved the idea, after switching to a new receiver and new electronics, they didn't fit into the openings in the homemade console.  I've been on the hunt for something that was unique and had some height to it. Everything else in the living room sits lower and creating contrast in height and leading the eye up was my goal.
I finally found something that I liked, and the bonus was that it was only $70 from Ikea.  I didn't expect to find something there that had a more unique look to it, but I found that the basic, cubic look of these metal and glass shelves, dressed up with metallic and neutral accessories made all the difference.
It fits all of the media components perfectly and allows for enough storage for my books and accessories to be displayed. The shelves provide a great mix of modern and vintage casual when mixed with the other pieces in my living room.
I've actually been thinking of this little nook in my house the whole time I've been traveling and I'm excited to get back home and play with it a little more, adjusting some of the decor and maybe adding a pop of color.
What do you use to corral your electronics?  Do you like the change from rustic industrial pallet to the cleaner glass shelves?