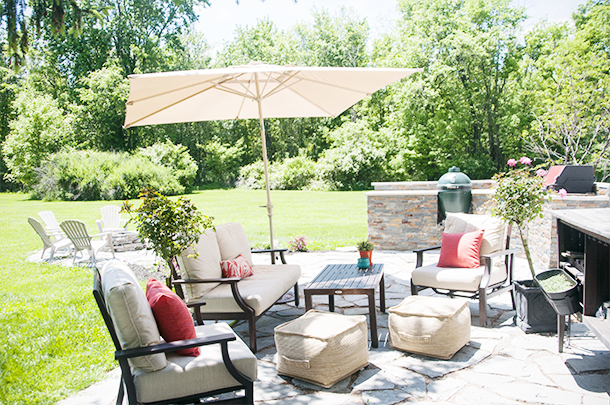 It's a lovely *Memorial Day* Monday here in Ohio.  It's sunny, clear, and already about seventy-five degrees out.  If you've been following along on Instagram, you've seen that Matt and I have spend the majority of the weekend working on our patio and our garden.
The patio has finally reached completion and I couldn't be happier.  You might remember last year when we laid the flagstone for it and got the project started, but just this year finished it up with an outdoor kitchen and lots of landscaping.  I absolutely love going out there and basking in both the sun and our hard work!
We also planted a garden this weekend with the help of Matt's parents and grandmother. Eloise (Matt's grandmother) watched from afar and let me know when my rows weren't straight… She grew up a farmers wife and definitely knows a thing or two about planting a garden! We planted five different varieties of tomatoes (among other things) and I can't wait unit we have enough to make our first batch of salsa!
I hope your weekend is filled with friends, family, and lots of sunshine!