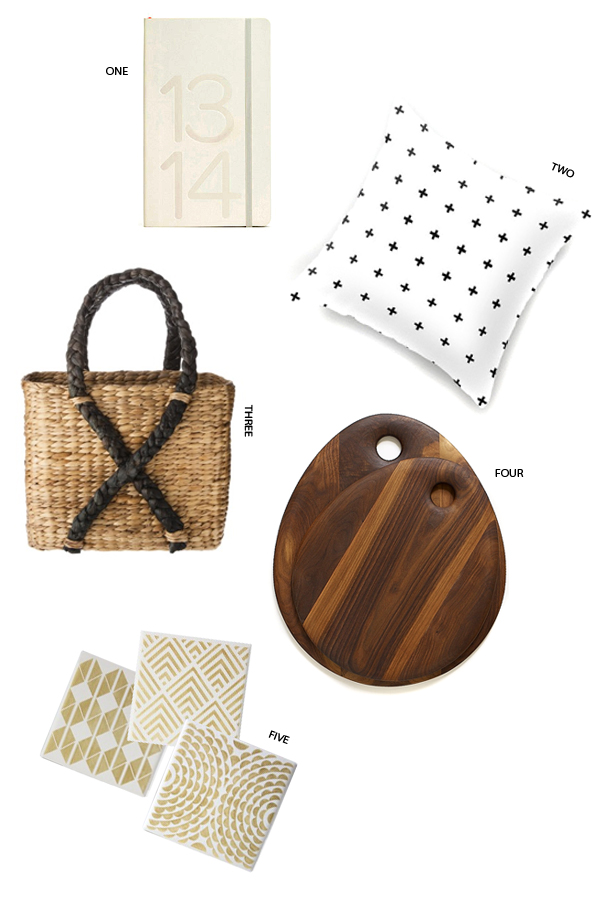 ONE a new 2013/2014 planner from poppin is cheap at $15 and will keep you on track from now through the new year and since it's 18 month, you won't be lugging two calendars around when it comes time to switch over. TWO I can't stop with the scandinavian crosses!  This black and white pillowcover by Pencil Me In Stationary is minimal, stylish, and won't break the bank at $38.  THREE It's easy for baskets around the house to look old, but the chunky weave and bold handle design on this Nate Berkus Basket is current and cool.  Plus, it's just $10! FOUR I'm obsessed with these smooth walnut wood cutting boards by DominikWoods.  They would be just as perfect on display as they would be for chopping veggies, $89. FIVE gold and white coasters by The Coastal are on sale for $22 (set of four) and come in a few beautiful designs.
Happy Friday, guys!  I've already finished work for the day in mainland China and am back in Hong Kong enjoying a fabulous hot pot dinner tonight with some colleagues and friends.  If you've never had Chinese hot pot, it's like fondue, but they use broth instead of oil and the selection of things to cook ranges from a slew of Chinese veggies to cuddlefish balls, shrimp dumplings, kobe beef (sliced super thin) and fish skins (which are actually quite delicious).
This weekend, I am excited to do a little bit of shopping, drink some champagne on the terrace of one of the tallest buildings in HK, have brunch at a fancy hotel, and possibly hit up the pool at my hotel if it stops raining.  It's a little bit of a departure from the renovations and DIYs that have been consuming my past few weekends.
Have a good one out there and come back Monday for little project which really improved the privacy situation in one of my rooms!