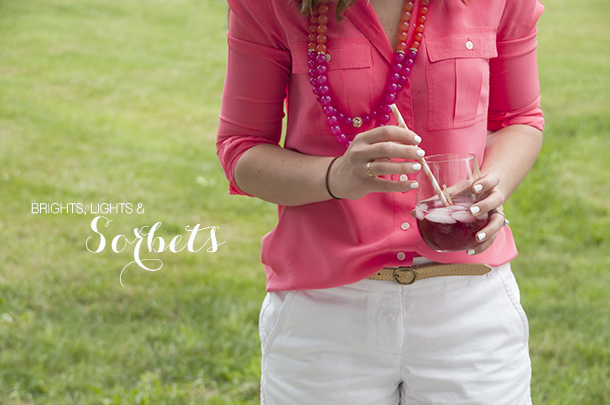 Brights and the contrast they provide with this seasons smooth candy-like sorbet colors are everywhere in fashion and decor. This past Saturday, I set out to put together a pretty garden cocktail party using the same color scheme.  Big bunches of peonies (a total score at the market) and creamcicle colored linens and peach straws brought a soft edge to all of the beautiful color.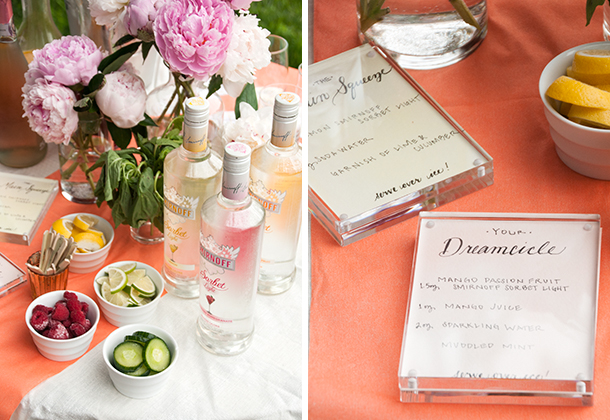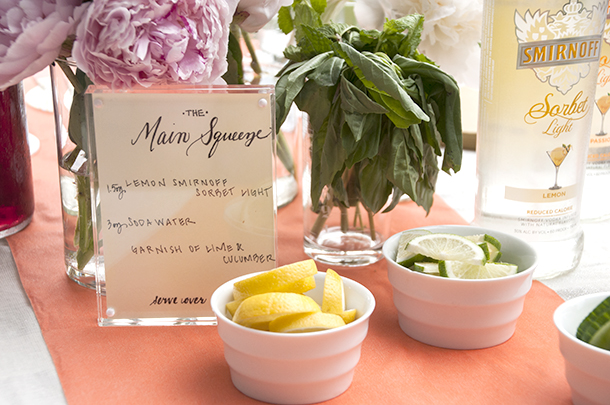 While guests were invited to make their own cocktail concoction, I also provided a couple of easy recipes to give people a place to start.

I provided the party with the alcohol (Smirnoff Sorbet Light vodka, which is lower in calories, so it made up for all of the juices), the mixers (mango juice, pineapple juice, pomegranate juice, rose champagne, and flavored sparkling waters), and fruit garnishes (mint, basil, thyme, raspberries, cucumbers, lemons, limes, watermelon, and honeydew). Once they were comfortable with the mixing ratios, people starting creating all sorts of fabulous flavors!  It was a lot of fun to see what everyone came up with!
*Quick Tip:  Freeze your fruit garnishes to keep drinks cold without watering them down!
I wish I was better at taking more photos once the action get started, but something about holding a frosty cocktail glass and a DSLR doesn't work well together!
I hope this gives you a place to start on your next summer get together!  What would you make with all of this goodness?
*heads up!  This post was sponsored by Smirnoff and the fabulous sorbet vodka was supplied by them.  All opinions, photos, and recipes are my own!