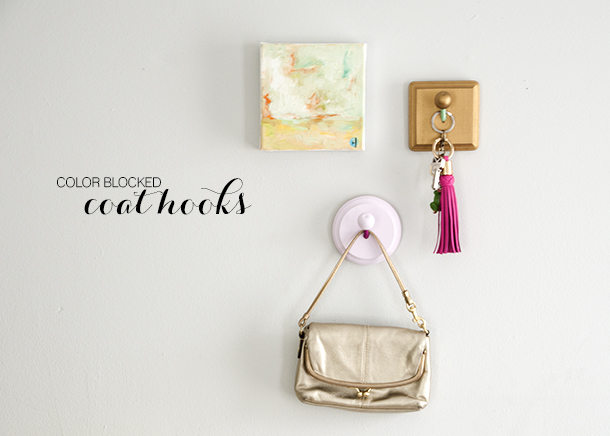 A week ago, Laura and I challenged a group of uber talented bloggers to create something unique from a box of mystery supplies from a load of fabulous sponsors.  You'll get 13 total awesome tutorials including this creation for a pair of color blocked coat hooks.
I used 5 of the materials in my box: two colors of paint from Deco Art as well as dowels, beads, plaques, and embroidery thread from Michaels.  I didn't use the containers from Specialty Bottle, die cut shapes from Clear & Simple Stamps, or gems from For the Makers, but I wanted to so bad!  All of the items were beautiful and I had so many ideas that utilized more of them, this was just my favorite idea.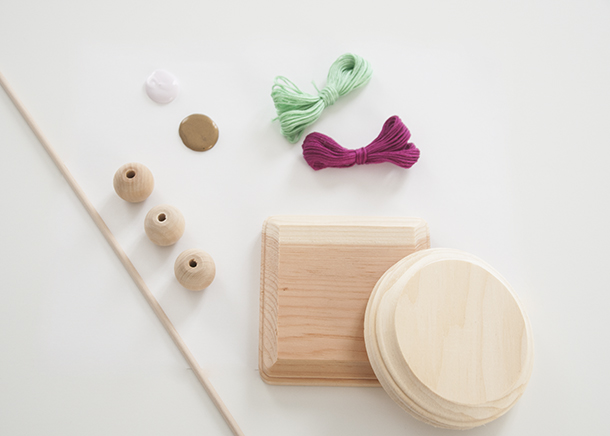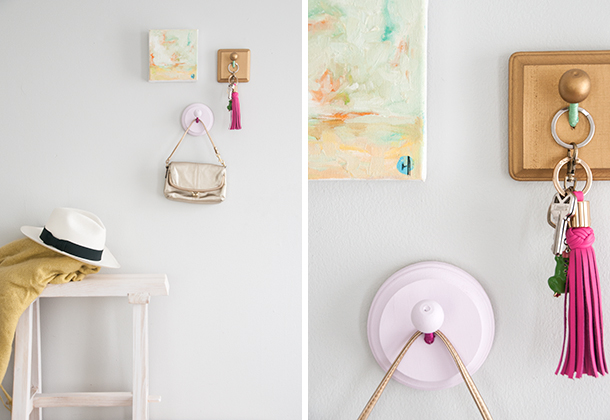 The paint colors in the box inspired me and the trend of thread wrapped (just about) anything gave the project the extra umph that it needed.  As you can imagine, the full project wasn't too difficult (because that's not my style)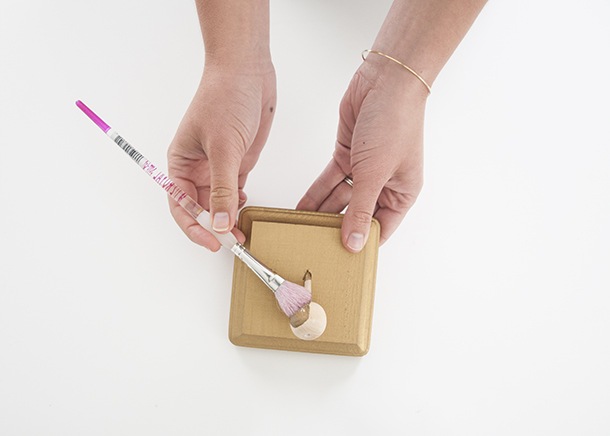 ONE measure a spot in the middle of the plaque horizontally and one third of the way from the bottom vertically. Drill a hole at a 45° angle toward the bottle of the plaque with a 1/4 bit.  TWO give the plaque one coat of paint. THREE cut a 1/4″ dowel to about 1 3/4″ length and insert it into the drill hole (it will take a bit of finagling). FOUR squirt a bit of glue into a 1″ wooden bead with 1/4″ hold and place it on the end of the dowel. FIVE paint the bead once the glue is completely dry. SIX spread some glue along the dowel. SEVEN wrap some embroidery thread around the entire length of the dowel from the base up toward the bead and then back down again. EIGHT knot the string with the tail from the beginning of the wrap and trim. NINE place a dab of glue on the knot.
I used some handy dandy command strips
to hang these little hooks from my wall along with a beautiful painting from Hillary Butler.  I love the blast of color and the fun shapes that play well off the abstract painting.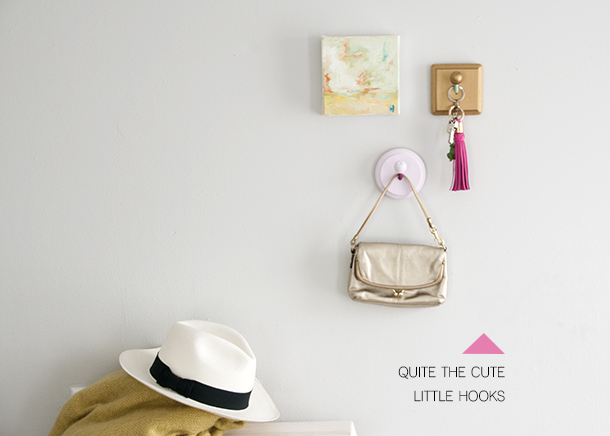 Aren't they the most darling little hooks?
You MUST jump over to the Trade & Made website and check out all of the other 12 projects.  I can't wait myself!!
A BIG thank you to Michaels, our primary sponsor, as well as For the Makers, Specialty Bottle. Clear & Simple Stamps, and DecoArt who donated some amazing items for the event.  We could not have done such a widespread DIY without these folks.  Another giant thank you to Gloria from Little White Whale Studio who so generously created the website for you all to use as a central hub to view all of the projects.  Lastly, I am so appreciative to our participants and to Laura who co-hosted the event with me!  THANK YOU GUYS!